the latest infos around our company
Here you will find all news concerning our company as well as the world of stand building.
If you want to stay up to date without any effort from your side subscribe to our newsletter. We keep our readers informed with about 4 letters a year of all the important news happening in the exhibition halls.
13.01.2016
Warning: Phishing Mails in circulation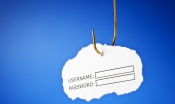 Since phishing emails are more and more in circulation these days we want to tell our customers how to detect if emails they receive are fakes or real:
1. We will always address you with your name!
2. Our email addresses don't consist of names, aside from the ones of the Messrs. Scheurle. All the others are called kontakt@scheurle-messebau.de or something similar.
3. Our emails have a signature underneath the message. This signature consists of our logo, address, phone number and website.
Should you still be unsure about an email seemingly coming from us just give us a call.
17.12.2015
Positioning of the Scheurle Messebau GmbH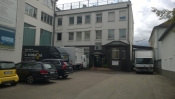 The company Scheurle Messebau GmbH is going to react to the growth in the industry and therefore will be strengthening its internal structure. Especially in the sections construction and logistics we often have to rely on external aid. This is why we decided to hire in these sections. Jobs have been advertised early on and this enables us to start with more power into 2016 without the quality of our products decreasing.
Furthermore we have some good news coming from our office: We were able to take over our trainee Miss Carolin Lutz and thus we will be able to keep up our great service. Also the recruitment of the technical drawer Miss Sarah Poser a year ago has proven to be a full success. So the core team around Mrs Constanze Dwischi and Mrs Julia Diehl is situated at the best to start in the new year.
We are looking forward to your orders.
14.08.2015
Our exhibition check list for you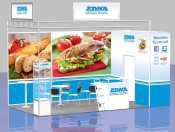 We have designed a exhibition check list for you. With this tool you can make sure that you are on the right way straight from the start of your planning. This check list helps you during the planning of your next exhibition appearance as well as after the last exhibition. It gives you the possibility to assign certain jobs to different people and to see the progress. So basically you can use it as a joint work in progress list or you just use for yourself to keep everything organized.
We hope our list helps you and remember since it is an excel file you can easily adjust it to your own needs.
15.07.2015
The periodic table for content marketing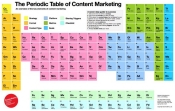 This info graphic gives an overview of all measurements, platforms, variables and kinds of content that are part of content marketing. So this is a handy compilation to never loose track of all possibilities.
For its practicality we can only recommend it to everyone working with content marketing.
17.06.2015
Natural wall design with brass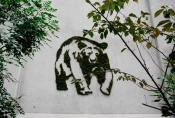 Since the trend towards "green events" keeps to continuously rise there are more and more new ideas and concepts coming up of how to run these events successfully whilst being resource-saving. Some of these concepts just give you the environment-friendly alternative whereas others are completely new and exciting concepts.
This also includes the use of brass for wall designs. Not only do you get an 3D effect on the wall but it also gives it all a high-end look. Obviously it is a sustainable alternative to an ordinary sign but it needs a little more care. Nevertheless you get a beautiful and sustainable wall design with little effort on your side.
18.05.2015
Room design for smaller budgets possible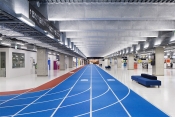 A good and functional room design is possible even though the budget is rather small. This is proven by the new terminal 3 in Tokio, which will be opened for the Olympic Games in 2020 and was only built for this time. Since it is only going to be used for a comparably small time the people in charge did not want to spend a whole lot of money on an extensive design. But there had to be a well-functioning guidance system to be able to keep a steady flow of people coming and going.
To save money they decided to do the design without big illuminated billboards, treadmills or platforms. Instead the floor was designed like running tracks inside a stadium. Thereby the blue tracks lead towards the departing flights and red ones greet the arrivals. Thus making it an easy to understand guidance system whilst the colourful floor brightens up the otherwise dull-looking grey building. The whole design fits the occasion and was rather cheap to obtain.